মালয়েশিয়া কলিং ভিসা মেডিকেল সেন্টার- Malaysia Medical In Bangladesh
মালয়েশিয়া কলিং ভিসা মেডিকেল সেন্টার- Malaysia Work Permit Visa Medical Center 2022. Medical Center For Malaysia Visa 2022. Malaysia Medical Center in Bangladesh.
মালয়েশিয়া কলিং ভিসা মেডিকেল সেন্টার
মালয়েশিয়া কলিং ভিসা বলতে আমরা ওয়ার্কিং ভিসা কে বুঝি। মালয়েশিয়ার বিভিন্ন কোম্পানী যখন সরকারের মাধ্যমে বাংলাদেশ থেকে শ্রমিক নিয়োগ করে সেই প্রক্রিয়াকে কলিং ভিসা বলা হয়। মালয়েশিয়া সরকার এবং বাংলাদেশ সরকার বার বার বৈঠক করে শ্রমিক নেওয়ার বিষয়টি চুড়ান্ত করেছে। প্রবাসী কল্যাণ ও বৈদেশিক কর্মসংস্থান মন্ত্রণালয় ২৬ জুলাই ২০২২ তারিখে ৬৮ টি মেডিকেল সেন্টারের নামের তালিকা প্রকাশ করেছে। মালয়েশিয়াতে শ্রমিক ভিসা পেতে হলে অবশ্যই এই তালিকার যে কোন একটি মেডিকেল থেকে টেস্ট করতে হবে এবং পজেটিভ রিপোর্ট জমা দিতে হবে।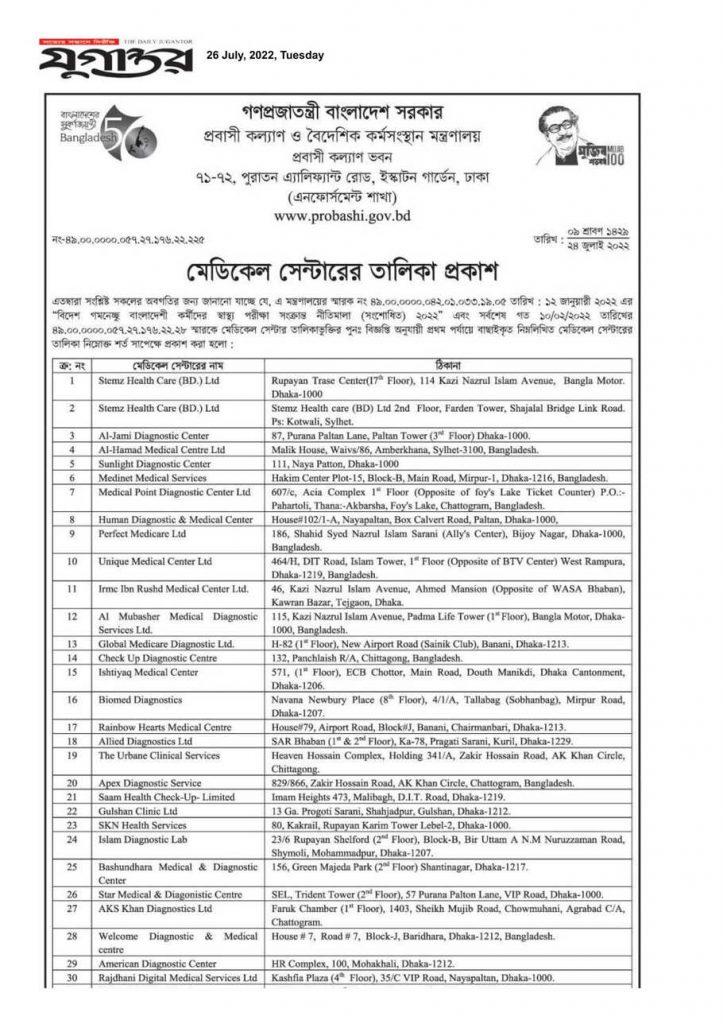 মালয়েশিয়া কলিং ভিসা প্রসেসিং এজেন্সিঃ
Global Assistant (গ্লোবাল এ্যাসিস্ট্যান্ট) মালয়েশিয়া স্টুডেন্ট এবং ওয়ার্কিং ভিসা প্রসেসের কাজ করে থাকে। আপনার মালয়েশিয়া কলিং ভিসা প্রসেসিং সম্পর্কে কোন তথ্যের প্রয়োজন হলে নিম্নে দেওয়া মোবাইল নাম্বারে যোগাযোগ করতে পারেন। মালয়েশিয়া তে কিভাবে ভিসার জন্য আবেদন করবেন, কিভাবে মেডিকেল করবেন সকল তথ্য দেওয়ার জন্য গ্লোবাল এ্যাসিস্ট্যান্ট প্রস্তুত।
যোগাযোগঃ

Email: Ceo@globalassistant.info

WhatsApp, IMO & LINE Number: +60176852551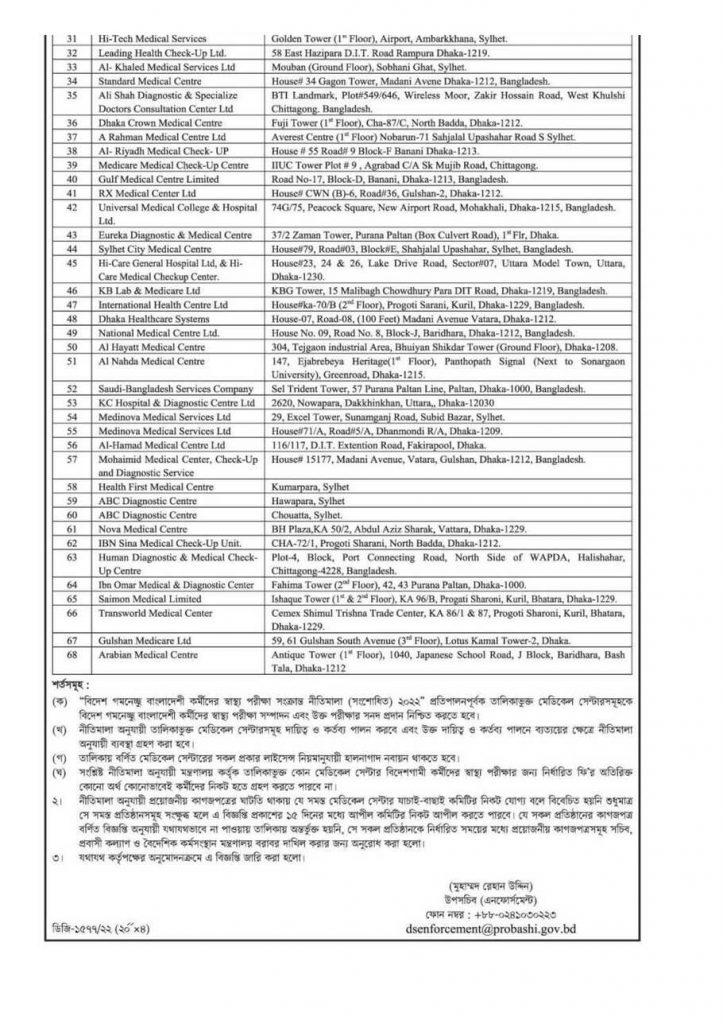 Malaysia Work Permit Visa Medical Center 2022
No
Medical Centre name
Address
Contact Number
1
Stemz healthcare (bd) ltd.
Rupayan trase center (17th floor), 114 Kazi nazrul islam avenue, Bangla motor, Dhaka 1000
2
Stemz healthcare (bd) ltd.
Stemz healthcare (bd) ltd. 2nd floor, Farden tower, Shajalal Bridge link road, Ps: Kotwali, Sylhet.
3
Al – Jami diagnostic center
87, Purana paltan lane, Paltan tower (3rd floor) Dhaka – 1000
4
Al – Hamad meical centre ltd.
Malik house, Waivs/86, Amberkhana, Sylhet -3100, Bangladesh.
5
Sunligh diagnostic center
111, Naya palton, Dhaka – 1000
6
Medinet medical services
Hakim center plot – 15, Block – B, Main road, Mirpur-1, Dhaka – 1216, Bangladesh
7
Medical point diagnostic center ltd.
607/c, Asia Complex 1st floor (Opposite of Foy's lake ticket counter) P.O: Pahartoli, Thana: Akbarsha, Foy's lake, Chattogram, Bangladesh
8
Human diagnostic & medical center
House 102/1- A, Narayanganj, Box Calvert road, Paltan, Dhaka – 1000.
9
Perfect Medicare ltd
186, Shahid Syed Nazrul Islam Sarani (Ally's center), Bijoy Nagar, Dhaka – 1000
10
Unique medical Centre ltd
464/H, DIT Road, Islam tower, 1st floor (Opposite of BTV center) West rampura, Dhaka – 1219, Bangladesh.
11
Irmc Ibn Rushd medical center ltd.
46, Kazi nazrul islam avenue, Ahmed mansion (Opposite of WASA bhaban), Karwan bazar, tejgao, Dhaka.
12
Al Mubasher medical diagnostic services ltd
115, Kazi nazrul islam avenue, Padma life tower (1st floor), Bangla motor, Dhaka- 1000, Bangladesh.
13
Global Medicare diagnostic ltd.
H-82 (1st floor), New airport road(Sainik club), Banani, Dhaka – 1213
14
Check up diagnostic centre
132, Panchlaish R/A, Chittagong, Bangladesh.
15
Ishtiyaq medical center
571, (1st floor), ECB Chottor, Main road, Douth manikdi, Dhaka cantonment, Dhaka- 1207
16
Biomed diagnostics
Navana newbury place (8th floor), 4/1/A, Tallabag (Sobhanbag), Mirpur road, Dhaka- 1207
17
Rainbow hearts medical centre
House#79, Airport road, Block#J, Banani, Chairmanbari, Dhaka-1213.
18
Allied diagnostics ltd
SAR Bhaban (1st and 2nd floor), Ka-78, Pragati sarani, kuril, Dhaka-1229.
19
The Urbane clinical services
Heaven Hossain complex, Holding 341/A, Zakir Hossain road, AK Khan circle, Chittagong.
20
Apex diagnostic service
829/866, Zakir Hossain road, AK Khan circle, Chattogram, Bangladesh.
21
Saam health Checkup limited
Imam heights 473, Malibagh, D. I. T. Road, Dhaka- 1219.
22
Gulshan clinic ltd
13 Ga. Progoti sarani, Shahjadpur, Gulshan, Dhaka-1212
23
SKN Health services
80, Kakrail, Rupayan karim tower lebel- 2, Dhaka-1000.
24
Islam diagnostic lab
23/6 Rupayan shelford (2nd floor), Block-B, Bir uttam A. N. M Nuruzzaman road, Shaymoli, Mohammadpur, Dhaka- 1207.
25
Bashundhara medical & diagnostic center
156, Green majeda park (2nd floor) Shantinagar, Dhaka – 1217.
26
Star medical & diagnostic center
SEL, Trident tower (2nd floor), 57 Purana palton lane, VIP Road, Dhaka- 1000
27
AKS Khan diagnostics ltd
Faruk chamber (1st floor), 1403, Sheikh mujib road, Chowmuhuni, Agrabad C/A, Chattogram.
28
Welcome diagnostic & medicl centre
House# 7, Road#7, Block-7, Baridhara, Dhaka-1212, Bangladesh.
29
American diagnostic center
HR Complex, 100, Mohakhali, Dhaka- 1212.
30
Rajdhani digital medical services ltd
Kashfia plaza (4th floor), 35/C VIP Road, Narayanganj, Dhaka – 1000
32
Leading Health check Up Ltd
58 East Hazipara D.I.T Road Rampura 1219
33
Al- Khaled Medical Services
Mouban ( ground floor), Sobhani Ghat,Sylhet
34
Standard Medical Centre
House 34 Gagon Tower, Madani Avene Dhaka-1212

Bangladesh

35
Ali Shah Diagnostic & Specialize
36
Dhaka Crown Medical Centre
Fuji Tower (1st floor),cha-87/c, North Bdda,Dhaka, 1212
37
A Rahman Medical Centre Ltd
Averest Centre (1st floor) Nabarun-71 Sahjalal Upashahar

Road S Sylhet

38
Al Riyadh Medical check Up
House# 55 Road# 9 Block F Banani Dhaka 1212
39
Medicare Medical Check Up Centre
Iiuc Tower Plot # 9, Agrabad C/A Sk Mujib Road, Cittagong
40
Gulf Medical Centre Limited
Road 17, Block D, Banani, Dhaka, 1212, Bangladesh
41
Rx Medical Centre Ltd
House# CWN (8) -6, Road# 36, Gulshan-2 1212
42
Universal Medical College & Hospital Ltd
74G/75, Peacock Square, New Airport Road Mohakhali,

Dhaka-1215 Bangladesh

43
Eureka Diagnostic & Medical Centre
37/2 Zaman Tower, Purana Palton ( Box Culvert Road )

1st floor Dhaka

44
Sylhet City Medical Centre
House# 79, Road# 3, Block# F, Shahjalal Upashahar,

Sylhet Bangladesh

45
Hi Care General Hospital Ltd & Hi care Medical check Up Centre
House# 23, 24 & 26 Lake Drive Road Sector #7, Uttara Model Town Uttara Dhaka 1230
46
KB Lab & Medicare Ltd
KBG Tower, 15 Malibagh Chowdhury Para, DIT, Road 1219, Bangladesh
47
International Health Centre Ltd
House# ka-70 B (2ND Floor), Progoti Sarani, Kuril, Dhaka 1229,
48
Dhaka Healthcare Systems
House# 7, Road# 8, (100 feet) Madani Avenue Vatara,

Dhaka 1212

49
National Medical Centre Ltd
House# 9, Road# 8, Block# J, Baridhara, Dhaka, 1212
50
AL Hayatt Medical Centre
34 Tejgaon Industrial Area, Bhuiyan Shikder Tower

(Groud Floor) Dhaka,1208

51
Al Nahda Medical Centre
147, Ejabrebeya, Heritage ( 1st floor) Panthopath Signal

Near to the Sonargaon university Green Road Dhaka 1215

52
Saudi Bangladesh Service Company
Sel trident tower, 57 purana palton line, Dhaka, 1000
53
Kc Hospital & Diagnostic Centre Ltd
2620, Nowapara Dakkhinkhan, Uttara , Dhaka 1230
54
Medinova Medical Services Ltd
29, Excel Tower, Sunamgang Road, Subid,Bazar, Sylhet
55
Medinova Medical Services Ltd
House# 71/A, Road# 5/A  Dhanmondi R/A, Dhaka- 1209
56
Al Hamid Medical Centre Ltd
116/117, DIT Extention Road, Fakirapol, Dhaka –
57
Mohaimid Medical Centre Check Up & Diagnostic Service
House#15177, Madani Avenue, Vatara, Gulshan, Dhaka-1212
58
Health Fast Medical Centre
Kumarpara, Sylhet
59
ABC Diagnostic Centre
Howapara, Sylhet
60
ABC Diagnostic Centre
Chouatta, Sylhet
61
Nova Medical Centre
BH Plaza, Ka 50/2, Abdul Aziz sharak, vattara, Dhaka 1219
62
IBN Sina Medical Check Up Unit
CHA-72/1, progoti Sharani, North Badda, Dhaka-1212
63
Human Diagnostic & medical check Up Centre
Plot 4 block port connecting roadnorth side of wapda

Halisbahar cittagong-4228, Bangladesh

64
Ibn Omar Medical & diagnostic Centre
Fahima  Tower 2nd floor, 42 43 purana palton Dhaka- 1000
65
Saimon Medical Limited
Ishaque Tower, 1 & 2 floor,  KA96 B, & 47 progoti  sharoni,

Kuril Bhatara, Bash Tala,

66
Transworld Medical Centre
Cemex Shimul Trisna Trade Centre, ka86/1 & 87, progoti Sharoni, Kuril, Bhatara, Dhaka-1229
67
Gulshan Medicare Ltd
59, 61, Gulshan South Avenue 3rd floor, Lotus kamal tower 2, Dhaka
68
Arabic Medical Centre
Antique Tower, 1st floor, 1040 japanese  school road,

J block, Bridhara, Bash tala , Dhaka- 1212
মালয়েশিয়া কলিং ভিসার ২০২২ তথ্য
প্রশ্ন ০১: মালয়েশিয়া কলিং ভিসার কার্যক্রম কি শুরু হয়েছে?
উত্তর ০১: হ্যা শুরু হয়েছে। মেডিকেল সেন্টার অনুমোদন এবং মন্ত্রণালয় থেকে রিক্রুটিং এজেন্সিকে নিয়োগ অনুমতি দেয়ার মধ্যমে অনুষ্ঠানিকভাবে এই কার্যক্রম শুরু হয়েছে।
প্রশ্ন ০২: আমি মালয়েশিয়া যেতে চাই। কোথায় যোগাযোগ করবো?
উত্তর ০২: এখন পর্যন্ত মন্ত্রণালয়ের নিয়ম হচ্ছে, আপনি বিএমইটির ডাটাব্যাংকে নিবন্ধন করে অপেক্ষা করবেন। বিএমইটি রিক্রুটিং এজেন্সিকে আপনার তথ্য সরবরাহ করবে। অর্থাৎ কোন রিক্রুটিং এজেন্সি মালয়েশিয়া থেকে ১০০ কর্মীর চাহিদাপত্র বা ভিসা আনলে তাকে ৩০০ কর্মীর ডাটা বা তথ্য সরবরাহ করবে বিএমইটি। পরে রিক্রুটিং এজেন্সি আপনার সাথে যোগাযোগ করবে। ( বিকল্প হিসেবে আপনি প্রয়োজনে বৈধ রিক্রুটিং এজেন্সির সাথে যোগাযোগ করবেন। যাদের রিক্রুটিং লাইসেন্স নম্বর বা আর এল নম্বর আছে)।
প্রশ্ন ০৩: মালয়েশিয়া যেতে আমি কোন মেডিকেল সেন্টারে মেডিকেল করাবো?
উত্তর ০৩: আপনি নিজে কোথাও মেডিকেল করাবেন না। মালয়েশিয়ায় কর্মী পাঠানোর অনুমতিপ্রাপ্ত ২৫টি রিক্রুটিং এজেন্সি আপনাকে মেডিকেল করাতে বললে তখন আপনি তাদের দেখানো প্রতিষ্ঠানে করাবেন। কারণ প্রকাশিত ৬৮ মেডিকেল সেন্টারের তালিকার মধ্যে এখন পর্যন্ত মাত্র ১২ টি মালয়েশিয়ার জন্য তালিকাভুক্ত। অন্যগুলোতে মেডিকেল করালে কাজে আসবে না।
প্রশ্ন ০৪: মালয়েশিয়ায় কর্মী পাঠাতে ফেসবুক ও ইউটিউবে অনেকেই বিজ্ঞাপন দিচ্ছে, আমি তাদের সাথে যোগাযোগ করবো কিনা?
উত্তর ০৪: প্রথমত, বিএমইটির ডাটাব্যাংকে নিবন্ধন ছাড়া কেউ মালয়েশিয়া যেতে পারবেন না। দ্বিতীয়ত, যারা বিজ্ঞাপন দিচ্ছে তাদের বেশিরভাগেরই নিজেদের রিক্রুটিং লাইসেন্স নেই। রিক্রুটিং লাইসেন্স ছাড়া কোন প্রতিষ্ঠান বা ব্যক্তির সাথে বিদেশ যাওয়ার বিষয়ে যোগাযোগ করবেন না। আগে নিশ্চিত হবেন রিক্রুটিং লাইসেন্স নম্বর আছে কিনা ও নম্বরটি কত এবং সেই নম্বর ও প্রতিষ্ঠানের নামের মিল আছে কিনা।
মালয়েশিয়া কলিং ভিসা মেডিকেল সেন্টার Malaysia Work Permit Visa Medical Center 2022

Have question about this university?