Samarkand State Medical University Admission, MBBS Fees 2023
Samarkand State Medical University
Samarkand State Medical University is the oldest medical university in central Asia. This university was founded in May 1930. According to the decision of the then-republic government of Uzbekistan, it was founded with a vision of medical higher education. Before 1930, there was no higher educational institute for medicine in the Central Asian region. The former name was Samarkand State Medical Institute, situated in Samarkand. This university offers international students a six years MD (MBBS) program.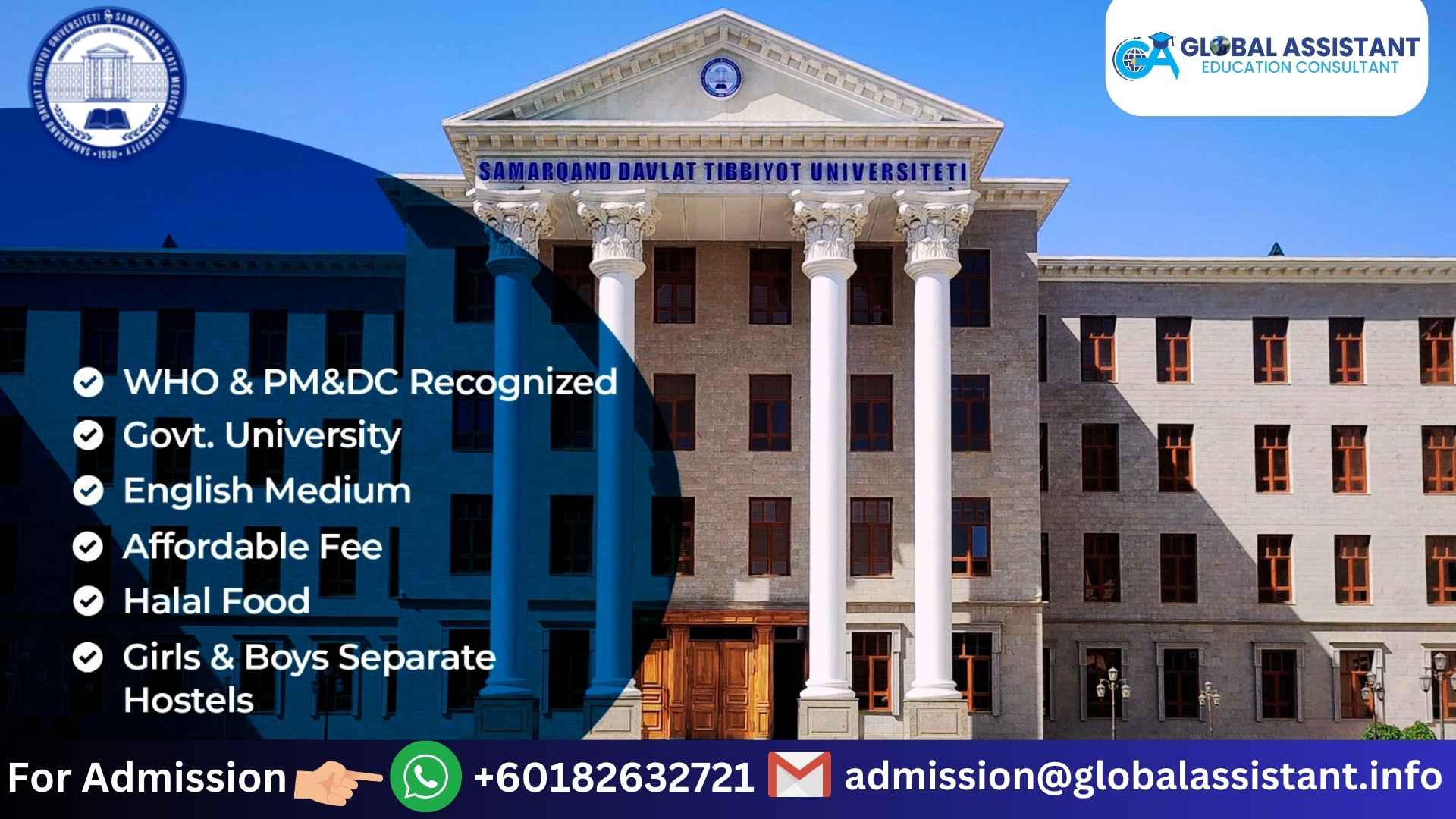 Samarkand State Medical University Campus Address:
Samarkand, Amir Temur Street, 18, Samarkand, 140100, Ujbekistan.
Status: Public University
Established: May 7, 1930, as Samarkand State Medical Institute and Samarkand State Medical University on April 1, 2022
Motto or Vision:
Medium of Teaching: English
IELTS/TOEFL: Not required
Website: https://www.sammu.uz/en
For Admission:

Email: Ceo@globalassistant.info

WhatsApp, IMO, LINE, WeChat: +60182632721

Bangladesh Contact Number: +8801886903048 
Why will Samarkand State Medical University be the best choice for MBBS Program?
Samarkand State Medical Institute is a recognized WHO (world health organization) educational institution.
This is a major medical institute in Uzbekistan and the Central Asia region—one of the country's earliest and most prestigious universities.
The tuition fees are affordable. Loan options are available for the students to pay the tuition fees.
The education system is conducted through the English language.
Technologically advanced top-notch infrastructure facilities.
Available internet access, computer, and extensive library facilities for the students. An overall research-friendly environment.
Graduates of Samarkand State Medical Institute are eligible to apply for ECFMG certifications.
This university's graduates work in the USA, Germany, the Middle East, Russia, etc. A bright future is ahead for the student here at Samarkand State Medical University.
1000+ Foreign Students from Pakistan, India, Nepal, Bangladesh, and Africa are studying MD General Medicine in English Medium.
Samarkand State Medical University has a modular system. It is a modern medical education system.
It's also offering some scholarships to excellent students by the end of every year.
They have Furnished hostels and mess facilities for international students.
Best University for MBBS
Faculties and Academic programs of Samarkand State Medical University
Currently, the university provides education at nine faculties with 9 Bachelor's degrees. They are stated below.
Faculties:
Faculty of medicine
Faculty of Pediatrics
Faculty of medical pedagogy
Faculty of Higher Nursing
Faculty of Dentistry
Faculty of pharmacy
Faculty of Medical Prevention, Public Health, and Medical Biology
International Faculty
Academic Programs
General Medicine
Pediatrics
Vocational education (medical practice)
Graduate nursing
Dentistry
Preventive Medical Medicine
Pharmacy
Biomedical science
Traditional Medicine
Clinical Psychology
Management: Health Care Management
These faculties include 74 departments. The university carries out its academic activities based on these departments. There are 1190 classrooms well furnished with modern computer facilities. Besides these, there are also 75 multimedia classrooms. 
Accommodation for International Students
Samarkand State Medical University has four dormitories for 1300 students. These dormitories have all conditions for comfortable accommodation for both local and international students of the University worldwide. To improve living conditions and cultural leisure, refrigerators, and TV sets are on every floor in the dormitories. There is new furniture in all the rooms.
There is a common laundry facility in the University student dormitory No.1. To provide warmth to the dormitories during the cold season; there is also installed modern heating system. There are showers and laundry rooms for students on all the floors. Modern washing machines and gas cookers are installed on every floor.
Modern computer rooms with Wi-Fi and Internet access in all dormitories. Every dormitory has "Rooms of Spirituality." They are equipped with appropriate types of equipment and visual aids. For conducting spiritual and educational activities, students can meaningfully use extracurricular time.
Library Facility
In all the dormitories, there are branches of the university library. In those libraries, there are 3000 items of relevant kinds of literature. All students living in the dormitories have a subscription to use these libraries to improve their educational purpose.
 Samarkand State Medical University Ranking 2023-24
Samarkand State Medical University is one of Uzbekistan's best and earliest universities. It is in the position of 16 in Uzbekistan.
Document Required for Admission to Samarkand State Medical Institute
Scanned copy of the original passport
Scanned copy of 12th and 10th mark sheets
Scanned copy of the application form
Birth certificate
Medical certificate
Passport-size photographs
Financial records
Samarkand State Medical University MBBS Fees for International Students
Tuition fees for MBBS Program
| | | | |
| --- | --- | --- | --- |
| Program | Duration | 1st Year Tuition Fees (USD) | Total Tuition Fees (USD) |
| MBBS | 6 Years (5+1) | 5,500 USD | 25,500 USD |
[Note. This Fee package includes tuition fees, residence, Mess charges, Police registration, Hostel management, and airport receiving.  
From 2nd year to last year, 4000 USD.]
Have question about this university?