History of Photojournalism- Photojournalism History and Timeline
History of Photojournalism- Photojournalism History Since the 1980s. The history of photojournalism has been discussed here from the 1800s to the 2000s. Also the timeline of the History of Photojournalism.
In the beginning
In the mid-1800s, the average person was not used to seeing a photographic portrait, much fewer images from the battlefront.
Photojournalism began when people began to document the Civil War by lugging, on horseback, cameras that weighed many pounds.
Halftone process — 1870
The image turned into dots (a pattern of black and white dots) that simulate shades of gray.
It allowed for realistic-looking photographs rather than an artist's wood etching.
Inaugurated an era of photojournalism and these visual surrogates of reality became an integral aspect of campaigns for social reform.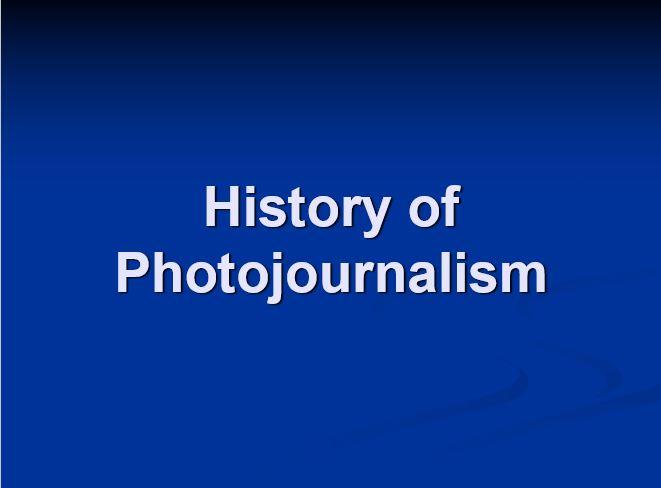 The timeline of the History of Photojournalism
1839: Optical and chemical principles combined to allow the creation of camera obscura, the first "camera" (actually the result of inventions that go back as far as the fifth century B.C.).
1871: Canadian Illustrated News prints the first halftone in a magazine.
1877: First illustrated daily newspaper, The Daily Graphic.
1880: The Daily Graphic publishes the first halftone in the American daily newspaper.
1900: Frances Benjamin Johnston and Jessie Tarbox Beals, who followed shortly after Johnston, become the first female photojournalists.
1903: Graflex camera introduced in the U.S.; a single-lens reflex camera; it used roll film; National Geographic magazine, started in 1888, runs its first halftone.
1910: Speed Graphic introduced; a 4×5 camera, it had interchangeable lenses and two shutters.
1923: First photograph transmitted by wire.
1924: "Composograph," first staged and faked news photo, born by combining elements from different photos; first Leica cameras using 35mm motion picture film and extremely fast (f/1.8 or so) lenses.
1925: Flashbulb invented in Germany.
1929: Speed Graphic replaces Graflex as primary camera of U.S. newspapers.
1935: Associated Press establishes wire photo network.
1936: Life magazine publishes the first issue.
1937: Kodachrome colour film becomes available for 35mm still camera; revolutionizes colour photography.
1941: Portable electronic flash becomes practical.
1942: Kodacolor colour negative film introduced.
1947: the Polaroid camera was invented.
1954: Tri-X black-and-white film marketed by Kodak.
1960: 35mm cameras becoming standard for photojournalists.
1978: AP introduces electronic darkroom.
1982: Digital still camera becomes available.
1987: Auto and self-focusing cameras standard.
1988: Kodak introduces ISO 3200 film.
1995: Color negative film the standard for newspapers.
1998: Digital still cameras widespread; high-resolution cameras (5 megapixels) retail for about $5,000.
Have question about this university?