Punjab College of Technical Education (PCTE)
Punjab College of Technical Education (PCTE)
Punjab College of Technical Education (PCTE) is a top-rank private university where more than 3100 students are studying now with a dream of pursuing their higher education. It's one of the best universities in India where international students come to study. It's the home of excellent studies, and the university produces world-class graduates yearly who can dominate the corporate world.
The university offers programs in every discipline, including engineering, management, information technology, Pharmacy, Journalism, Hospitality Management, and Biotechnology. Students from any background can study at the university regardless of their subject choice.
PCTE achieved the 5th Indy's award for excellence in 2011 for Mass communication, Advertising, Public relations, and Branding. PCTE offers world-class BBA programs for students from 250 countries worldwide and collaboration with France, Poland, Switzerland, Germany, and United Kingdom. Still, the university has 56 gold medals for an excellent education.
The university is located in a beautiful location in the city. Ludhiana is connected to the country's excellent cities and the capital. It's closer to the country's second airport, the Sahnewal Airport.
The university offers merit scholarships for brilliant students. Postgraduate students can get scholarship who are qualified for the scholarship. Besides, the university offers financial assistance for poor students, including students with disabilities. It's a great chance for the students to enjoy world-class study opportunities with scholarships.
Why is PCTE the best for studying in India?
As a top-ranked university, PCTE offers world-class and top programs for students to work with industry-leading corporate offices. PCTE students are engaged in extracurricular activities and studying to bring the best. The university ensures world-class study with all the facilities to make them standard as the future leader.
Students have a chance to learn and experience a diverse environment. There is endless reason to choose the University for Higher Study.
Students get an opportunity for an internship of four months to have hands-on experience working in an industry to thrive in the corporate world after completing their degree. PCTE provides full support for the students to build their careers. The university trains students with grooming sessions, training sessions, and interviews to work with information technology, retail, telecom, travel and tourism, and manufacturing industries.
The programs are designed to make students skilled in problem-solving and leadership. They have a chance to gain critical thinking knowledge and apply it in the corporate and business world.
PCTE University Campus:
The university is located in Ludhiana, one of Punjab's most popular cities. Ludhiana is connected to all the cities of the country. The weather is mesmerizing in Ludhiana, making it suitable for study for the students from different countries. Besides, students can enjoy outdoor activities along with their studies.
University Address
Ludhiana, India.
University Ranking
Ranked 2nd in Punjab.
University Vision
The university works with a vision to create opportunities for students to learn modern technologies and business techniques with practical knowledge to produce world-class graduates.
How To Apply for IIMAT College in Malaysia
Students can apply directly by University website or Authorized Agent

Authorized Student Admission Agent Office:

Global Assistant Education Consultant

Website: https://globalassistant.info

Email: globalassistant.cf@gmail.com

WhatsApp, IMO, WeChat: +60176852551.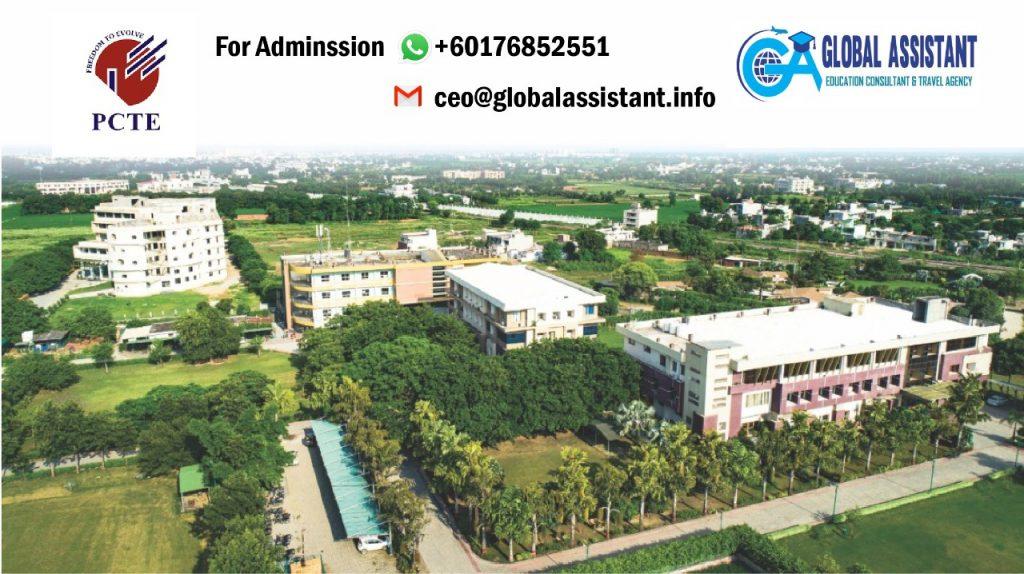 PCTE University Fees 2022
PCTE University Fees 2022
Course
Fees Per Semester
Duration
Full Fees (Including
Hostel with AC Room)
Civil Engineering
136250
4 Years
5.45 Lacs
Computer Science Engineering
136250
4 Years
5.45 Lacs
Mechanical Engineering
136250
4 Years
5.45 Lacs
BTTM (Travel & Tourism)
82500
4 Years
3.30 Lacs
BBA (Business Administration)
132000
3 Years
3.96 Lacs
B.Com (Commerce)
132000
3 Years
3.96 Lacs
BCA (Computer Application)
132000
3 Years
3.96 Lacs
BJMC (Journalism)
132000
3 Years
3.96 Lacs
B.Sc. Fashion Design
122000
3 Years
3.66 Lacs
B.Sc. Medical Lab Sciences
120000
3 Years
3.60 Lacs
B.Sc. Biotech
120000
3 Years
3.60 Lacs
MBA
Rs. 195000
2 Years
3.90 Lacs
MCA
Rs. 195000
2 Years
3.90 Lacs
PCTE University Campus
The campus provides a dynamic environment for the students. It's located in an area where students can enjoy the charm of the countryside. Students can find peace in the hustle of daily study life. Besides academic learning, students can be engaged in playing cricket, soccer, and basketball. Besides, they can enjoy baking, cooking, and journalism. Students have a chance to learn some other activities.
The university collaborates with the international universities so that the students can get a chance to study in the international universities.
The university offers modern hostel facilities for students with modern infrastructure. The university ensures a pleasant atmosphere in the hostel, including a Wi-Fi facility, caring wardens, and air-conditioned rooms with the highest security. Students get all the facilities to ensure they can focus properly on academics. The hostel environment is clean and relaxing.
This university is where you will find an opportunity to have the best time with a potential learning opportunity. The university is truly amazing for the students.
Have question about this university?