Raymond International College in Australia
Raymond International College
Raymond International College (RIC) is an educational institute which is a registered teaching and training organization. It is situated in Melbourne CBD, Australia. Ms Alyssa Chea is the CEO of this college. She is trying to furnish students with vast potential and professional educative experiences which is really helping students to become more equipped. RIC gives the students industry-relevant training which makes the students ready for jobs. A student should make an ideal choice by keeping Raymond International College on the shortlist.
Why choose Raymond International College
A student confidently relies on and invests money, time and interest in this college. Some effective reasons for choosing Raymond International College are:
Cost Effective
Raymond International College tries to provide market-demand, synchronized, and, ideas according to it. All programs are planned and synchronized and most importantly cost-effective for native and international studewhoEven RIC provides competitive programs to students which are required in the marketplace. Furthermore, a student must be confident by noticing the pricing system and become satisfied with what they receive in return for their value of money and investment.
Transport and Classroom
Raymond Inal College campus is more student-friendly as there is a proper transportation facility for students' Public transport is available within meters of RIC main campus. Not only transportation but also It also has modern classroom facilities and training facilities for students.
Learning System
RIC offers flexible study programs for students with helpful schedules. The student should select a useful timetable according to to need. All programs are provided face to face in the classroom of RIC by maintaining proper quality education with modern technology and resources along with a free internet facility during class time for students' personal use.
Student services
RIC offers the best beneficiary and academic service to students. If students require small campuses, low-class numbers, personal approach and interaction with students
 Courses
Vocational programs and courses with appropriate quality education are offered to domestic and international students at the Melbourne CBD campus. By acquiring a high-quality education, students can gain knowledge and employability skills that make them competitive and productive in different job sectors.
Campus
Raymond International College is located in Melbourne Central Business District, Australia. The campus offers students a pleasant environment to learn, and the location of RIC is in the heart of the city. Moreover, RCI is easily accessible for every student by any public transport for its location. Even students also can get access from any walking distance, banks, post offices, restaurants etc.
Programs
RIC provides skill-developing industry-relevant training to students. RIC includes diploma courses in leadership and management and information technology.
Requirements
The age needs to be above 18.
Satisfactorily finished at least 12 years.
English Language Proficiency. IELTS overall score 5.5 or TOFEL IBT 4.6
Without IELTS requirements, applicants go under Language Literacy and Numeracy imposition to acquire ACSF level 3 to Face with RIC language entrance requirement.
Applicants need to do a Diploma or advanced level diploma course to progress this qualification.
Otherwise need two years of full-time work experience in leadership or the enterprise.
Raymond International College Address
RIC is located in CBD (Central Business district) in Melbourne's prime position. RIC can also be recognized by the Historic Victoria market which is just next to RCI. Even from Melbourne central station, RCI has just a few minutes walking away. Raymond International College can be identified at 1204/470 Collins St, Melbourne VIC 3000, Australia.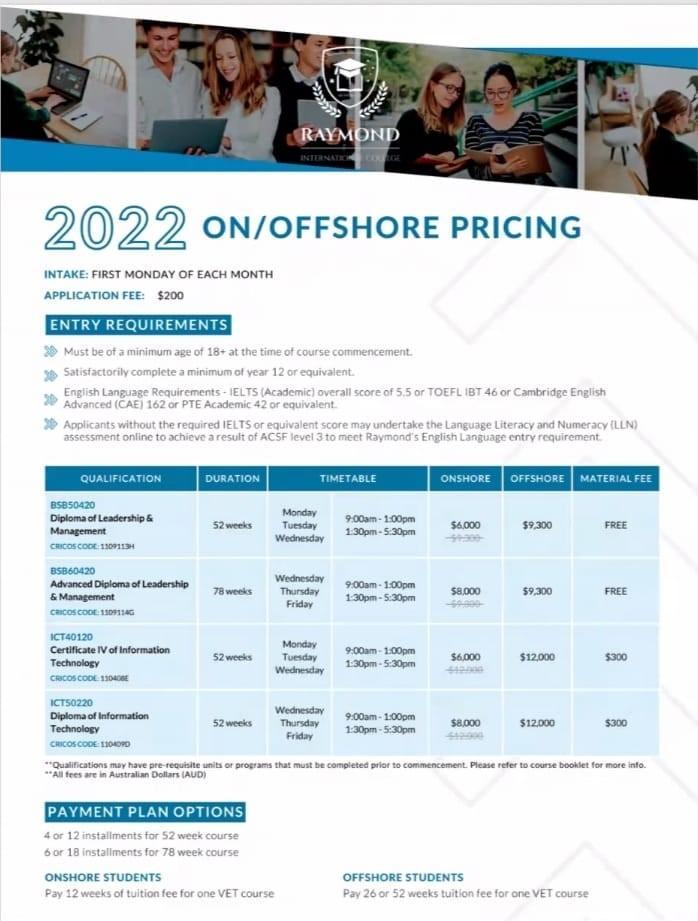 Raymond International College Programs and Fees
| | | | | |
| --- | --- | --- | --- | --- |
| Qualification | Duration | Onshore | Offshore | Material Fee |
| Diploma of Leadership & Management | 52 Weeks | $6,000 | $9,300 | Free |
|  Advanced Diploma of Leadership & Management | 78 Weeks | $8,000 | $9,300 | Free |
| Diploma of Information Technology | 52 Weeks | $6,000 | $12,000 | $300 |
| Certificate IV of Information Technology | 52 Weeks | $8,000 | $12,000 | $300 |
Payment Plan Options
4 or 12 instalments for the 52-week course
6 or 18 instalments for the 78-week course
Onshore Students
Pay 12 weeks of Tuition fee for one VET course.
Offshore Students
Pay 26 or 52 weeks tuition fee for one VET course.
Have question about this university?